Half Year Summary
By Mike Daly
January 27th, 2013
---
My apologies for the long blackout. Let's catching up!
Let's see here, in the last 6 months (chronologically listed):
Man, I could have sworn that more stuff happened during that period. Well, I've got a new hobby project to pick out. See you later.
---
Comments »
(0)

Robot Retrospective
By Mike Daly
July 3rd, 2012
---
Back at Emergent, I started a habit of keeping daily logs of my work. This included information like what my task list was for the day, what I got done that day, how long I spent on various tasks, and how that time accumulated into some general categories. I wrote up an analysis of my logs when I got done working at Emergent in my April 2011 news update.
Last Friday (6/29/2012) was my last day of work at Robot Entertainment. I kept up with the logs since I started at Robot as well, and kept my log data mining programs around, so now it's time to take a look at what we can find there.
Word Cloud
I took all my logs, filtered and concatenated them, and then (with Jody's help because I refuse to use java) dumped them into Wordle to make a word cloud image. The results: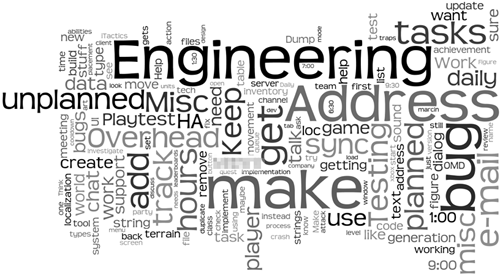 The big words were just ones that were a part of my standard format and are in the logs for most days
The biggest words are all common generic type stuff you might expect to see if you did this for any programmer. It's the smaller words that were somewhat unique to my experience at Robot. I didn't filter out times, so some interesting ones show up - 1:00 (for how long I usually spent not working throughout the day (for lunch typically), then a much smaller 1:30 for long lunches. There's 9:00 for the time I typically got into the office, then a smaller 9:30 for when I slept in. 6:30 and 7:00 both showed up as times I typically left work, but smaller because there was a lot more variance there. I think it's pretty awesome/telling that the word "party" shows up at all. There's a few game-mechanics-specific ones in there like "trap" (probably should be paired with "placement"), "cooldown", "units", "tech", "inventory", "quest" etc. There's a few for tasks I worked on like "localization"/"loc", "achievement", and "leaderboards". I did end up censoring a word because it's the title of an unannounced project.
Calendar images
So I ran a program to graph out each day I worked and whether it met some sort of chart-specific filter. Here's how it works: each cell is one day, each column of cells is a month, and each year is divided by a thick line. Empty spaces mean that I did not have a log file for that day (weekends, vacations, business travel, etc). A grey space means that I have a log, but it didn't meet the condition for that chart. A white cell means that the log for that day did meet the condition for the chart. Also, my working time is computed using my start and end times on a day minus any time spent doing things non-work related. I tracked the time I spent on things like lunch, games, or long unrelated conversations so they do not count as work time. The short year at the beginning is 2010, the short year at the end is 2012.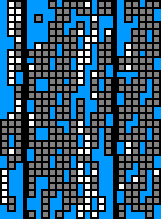 I typically go into work at 9. These are the days I was early. Basically, I thought I would get into a habit of working early and I first started, then realized I didn't want to do that. For some reason I picked that habit back up about halfway through 2011, probably because I was working on something super exciting.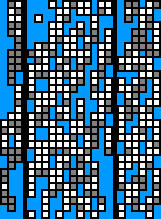 Days I worked past 6:00 PM, which was most days. Not really sure if there is anything interesting here other than that my schedule has shifted to be generally later than it was at Emergent.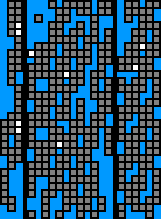 Days I had a log that were also weekend days. Didn't have to work many weekends at Robot. The few exceptions came when we were crunching for Age of Empires Online, then again for Orcs Must Die!.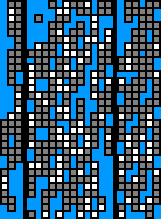 Days that I worked for 9 hours or more (not including lunch, breaks, etc). Pretty evenly spread and almost all of it was voluntary because I loved my job.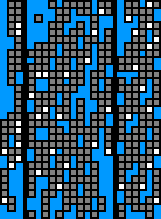 Days that I worked less than 7 hours. There were a lot more of these than I thought there would be, and (not surprisingly) almost all of them on Fridays.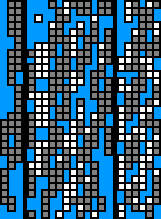 Days I mentioned OMD in my logs. Although I only spent less than half of the time I was at Robot directly working on OMD, it's (and OMD2's) development was always an important thing across the entire office.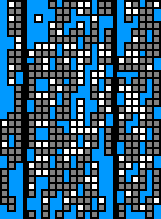 Days I spent more than 2 hours doing "overhead" tasks - meetings, internal support, e-mail, etc.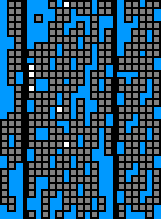 Days that I worked over 12 hours. It was pretty rare at Robot, just a few for Age Online crunch and a few more as OMD was wrapping up. Overall, I felt like I had a really great quality of life there.
Well, that concludes my visual summary of working for Robot. I had a really awesome time working there and I'm really proud of all the stuff that the studio has done. I wonder how working for Insomniac will compare with these graphs? I guess in time we will see.
---
Comments »
(2)

Moving back to North Carolina
By Mike Daly
June 19th, 2012
---
I've been exceptionally sparse with updates lately, sorry about that. Good thing Jody picked up the slack. There has been some really exciting stuff in motion that I wasn't quite ready to announce until recently.
The big news: I'm moving back to North Carolina! In fact, as I type this, movers are packing up all my stuff. A few months ago, I got engaged to Amanda Knutson. The reason for the move was so that we could finally end the long-distance phase of our relationship and live in the same state again. I'm super excited about moving; it's going to be awesome to see each other more often than every other weekend. I won't miss all the flying either.
It will be sad to leave Robot Entertainment but I'm also excited to be starting work at Insomniac Games of Ratchet and Clank fame. They've been making awesome games for a long time now and everyone I met there seemed cool.


Despite what you might have heard, employees do actually sleep from time to time.
Amanda and I recently took a trip out to the North Carolina mountains to visit my parents. That was a great trip, we got to go rafting and hiking and I made Amanda see Alien for the first time. Side note: the idea behind watching Alien was to prep for Promethius, but sounds like the movie isn't nearly as good as the trailers would lead you to believe; oh well. Rafting was tons of fun, we rented a raft and went down the Nantahala river without a guide, which was exciting. We got caught up on rocks like 3 times (sometimes it took some serious effort to get unstuck) and we still finished like 30 minutes earlier than anyone else on our excursion.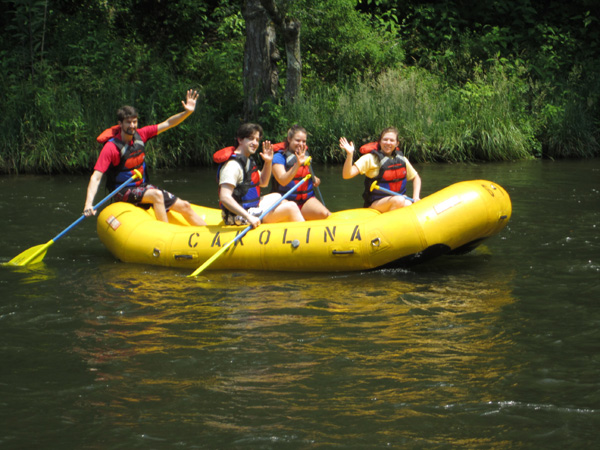 It got a little more intense than this, but honestly not by much
If you are a player of Hero Academy (and you should be!), I'm happy to say that the next version coming out very soon now will be the first that has the stuff I've worked on in it. Not only did I get to add some completely new systems, I even got to contribute a little to the design, which was fun.
---
Comments »
(1)